Adelaide Tile and Grout Cleaning Specialists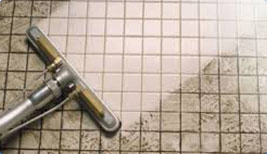 Tired of scrubbing your tiles and grout to no avail? Let us do the scrubbing for you and restore that bright and clean look!
Cleaning grout and tiles are one of our specialist's that can save you time and money on unnecessary chemicals. These chemicals can be harmful to your health, and more often than do not work as well as advertisers claim.
We have been providing professional tile and grout cleaning services here in Adelaide, since 2007.  Our IICRC certified team offers the most reliable and cost-effective tile and grout cleaning services. Our team utilizes advanced cleaning equipment and treats the tiles and grout with suitable cleaning agents for best results. We follow proprietary cleaning methods and clean and sanitize the tiles and grout lines with great care. Beyond just improving the appearance, our services will help extend the life of your tile floors.
Our products are 100% biodegradable and safe for use in homes with children, pets and allergy sufferers.
If you are looking to give your tile floor the best professional care, call us today to schedule your tile and grout cleaning service.
Why to Choose Professional Tile & Grout Cleaning Services
Let's face it unlike other cleaning chores, tile and grout cleaning is not for everyone. It requires a lot of effort and the right techniques. Hence it is important to choose a professional tile and grout cleaning service provider.
Benefits of Tile and Grout Cleaning Regularly
Cleaning your tiles and grout periodically with professionals will have the following benefits.
Helps in removing debris that can cause damage to the tiles extending their lifespan.
Right techniques will be used for different type of tiles ensuring an effective cleaning process.
Regular cleaning of tiles helps maintaining them in good condition and avoid replacing with new ones which could prove expensive.
Ceramic and porcelain tile mostly used in kitchen and baths needs special cleaning treatments to remove tough stains and dirt which cannot be removed by ordinary cleaning methods.
Commercial Tile & Grout Cleaning
If it's important to have your tiles and grout clean and sparkling at homes, it's more important to maintain and clean them in commercial places. A clean office is important for your business reputation.
What types of Businesses Can Benefit?
Commercial tile and grout cleaning services are suitable for different types of businesses like corporate offices, medical facilities, restaurants, hotels, educational institutes, community halls and many more.
Our Tile and Grout Cleaning Service Includes
Pre-inspection of tiles for determining proper cleaning solution.
Power scrubbing to loosen dirt & grime.
High-pressure stream extraction/pressure rinse & clean.
Speed drying the tile & grout lines.
Why Choose Our Tile and Grout Cleaning Services?
We guarantee 100% customer satisfaction.
We have IICRC certified cleaners, who have required experience & training.
We offer quality services at affordable rates.
We use safe & eco-friendly cleaning solutions for better results.
Our truck mounted equipment requires no external power.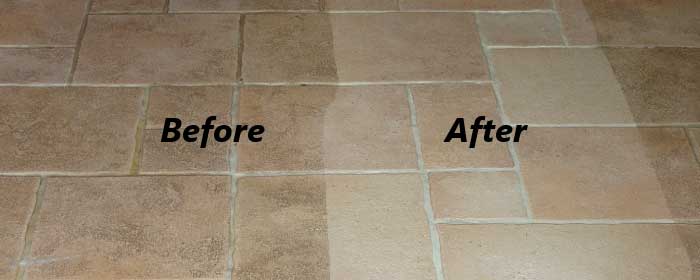 Contact us for a specialized quote on tile and grout cleaning service and enjoy your spare time in return! For any queries kindly call, us on 1800 75 60 75 or 0410 799 585 or send us an email at [email protected]. You can also get an instant tile and grout cleaning quote by using our quote calculator.