Rug Cleaning Services in Adelaide



Looking for Professional Rug Cleaning in Adelaide?
Are your rugs looking tired and flat? Let us bring them back to life with a deep steam clean. Enjoy the fresh clean look as well as the health benefits of eliminating harmful allergy-causing dust and dirt. With hard floors throughout homes becoming more popular, our technicians are expertly trained in cleaning rugs of all materials. Contact us for a specialized quote today. A pickup and delivery service is also available.
We are specialist rug cleaners in Adelaide and offer services at cost-effective rates. As one of the most trusted and experienced rug cleaners, we care about your prized possessions and help you keep them new and looking fresh.
We use safe cleaning methods and best equipment's for rug cleaning. Our certified rug cleaners has undergone intensive training in cleaning different types of rugs. Our rug cleaning process is determined by size, construction, and material. From regular wool rugs to exclusive Oriental or Persian rugs, we deep clean with precision and skill. Deep-layered dust or tough spots, our professional rug cleaners will take care of them and leave your rug as good as new.
Area Rug Cleaning and Oriental Rug Cleaning
Area and Oriental rugs are welcome additions at homes looking to improve the overall look and feel of a living room. These types of rugs are used in high traffic areas not only to keep the room free of dust and dirt, but they also help in enhancing the overall look and feel of the rooms.
Types of Rugs
There are different types of rugs available in the market. Some of them include handmade oriental rugs, machine-made rugs, rugs made of synthetic fibers, bound carpet area rugs, nylon rugs, silk and viscose rugs, polyester rugs and many more.
How Professionals Clean Rugs or Carpets
Expert carpet or rug cleaning services have a thorough cleaning process that starts with examining the type of carpet or rug and the specific methods to clean them based on their characteristics.
General Cleaning
Standard washing methods include dusting the rug to remove all the dirt. The areas with tough stains are pre-spotted to have them removed. Once the tough stains are out of the way cleaners like pH balanced shampoos are used to leave the rugs clean and bright.
Deep Cleansing Wash
Stains that simply do not go away with standard washing methods are subjected to deep wash.
In deep wash methods the rugs after being cleaned for dirt, are treated in pH balanced water, this results in stains getting loosened so that it can be cleaned with cleaning shampoos.
Removing Pet Odors
Pets can be quite charming but the odor they leave behind on rugs and carpets are not desirable.
When treating for pet odors the rugs are soaked in pH balanced water for a day or more and it is consistently changed with fresh water until the odor is completely washed away in the process. The rugs can then be shampoo cleaned leaving it fresh and clean.
Our Rug Cleaning Service Includes
Pre-inspection of rug for choosing suitable cleaning process.
Dusting to remove dust and dirt particles.
Advanced pre-treatment for removing spots and stains.
Pre-Spray for heavy foot traffic areas & rinsing.
Hot water extraction.
Conditioning Sanitizing & Deodorizing.
Use of grooming tools for the restoration process.
Final Inspection.
Why to Choose Our Rug Cleaning Services?
100% customer service guarantee.
Courteous & Knowledgeable Team who are IICRC Certified.
Prompt response & exact appointment times.
Use of advanced tools & environmentally safe cleaning agents.
Independent Truck Mounted Equipment Available – No External Power Required.
No hidden costs- Professional services at reasonable costs.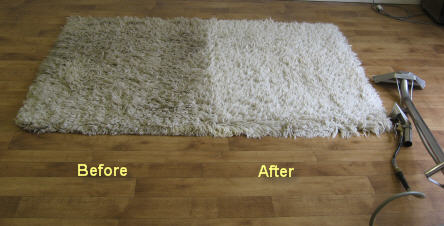 For additional information on our rug cleaning services in Adelaide, you can call us on 1800 75 60 75 or 0410 799 585.You can also send us an email at [email protected] or get an instant quote for rug cleaning by visiting our quote calculator page.