Trending Area Rug Styles For 2018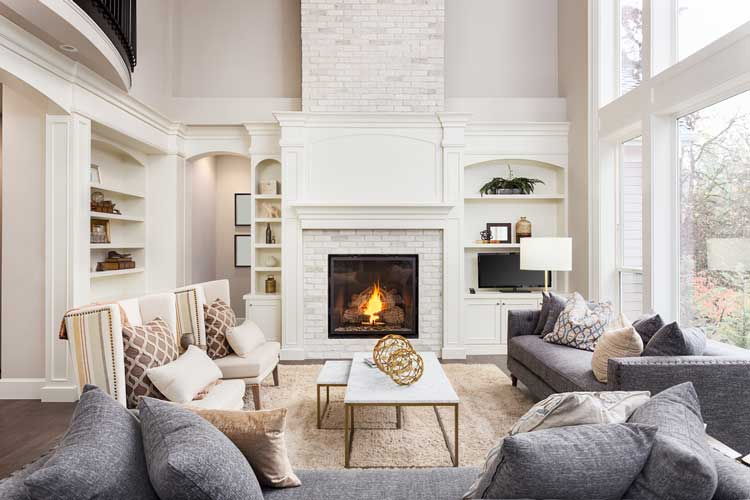 Are you planning to add or replace your area rug? Here are some trending modern rug styles for 2018. From bold to contemporary, you will find no shortage choosing from different varieties of textures, patterns, styles, and designs. However, the challenge lies in picking the right area rug that will complement the appearance of your interiors and speak the current trend.
Here's a list of six trending area rugs for 2018 that would make a perfect addition to your beautiful home.
White Rug
The white shag rug is the most popular design trend for 2018. Apart from giving a subtle visual space, white rugs add luxury and elegance to any room. Every morning you'll feel more comfortable stepping onto a plush rug. You can even relax by the fireplace and enjoy the warmth.
Shag rugs have higher pile than regular knotted area rugs. You will find them more comfortable as they are extremely soft and fluffy.
Accenting with a white shag rug, you do not just add pizzazz to your floor space, but you will also be adding a valuable piece to your extensive rug collection.
Layered Look
Do you have a large seating area and a good collection of area rugs? Then it's time you do the experiment and bring the right look for your living spaces.
Think in multiples; decorate your floor by layering the rugs. Skillfully work with rugs of different patterns, textures, colors, and shapes. For instance, you can stick to the same color palate, but choose rugs of different patterns or pair a solid with a pattern.
If you have wooden furniture, then you can mix and match bohemian rugs and enhance the appeal of your space. They are available in Moroccan, over-dyed, and vintage styles and will complement the surrounding décor when layered in mixed patterns.
Tribal Abstracts
A tribal pattern area rug is a great way to compliment your Southwest interior setting. You'll find tribal area rugs stylized in numerous patterns and stripes/vertical designs. The rich colors and bold geometric motifs of tribal area rugs draw inspiration from the nomadic tribes of North America.
They make a nice flooring piece to your hallways, living room, and staircases. You can go with flat woven rugs, hand knotted rugs, or hand-woven rugs that are eye-catching and helping you in revamping your living space.
Moroccan Inspired
Moroccan rugs in the Beni Ourain style are the most popular right now.
An authentic Moroccan rug is made from natural wool and easily adds a little warmth to any space. Normally, you'll find Moroccan inspired rugs in neutral tones with fairly simple repetitive patterns.
The abstract linear patterns against solid background can add a wow factor to your home decor. You also have rugs with fringe edges, a thin border and some with a little bit of color like Moroccan plus shaggy lattice rug.
Shibori Style
These area rugs are inspired by the classic Shibori craft of Japan. The vibrant rugs with repetitive geometric patterns will surely work for your contemporary home décor.
No matter what color or pattern you choose, Asian inspired rugs are beautiful and can look magnificent without appearing heavy or imposing.
Two-Tone Minimal
This year, set a style statement in your space by embracing two-tone rugs.
Two-tone rugs make a fantastic complement to your modern furniture. The latest in rug trends, they are available in a wide variety of geometric and curvilinear patterns. Suppose, you are choosing a simple, yet elegant black and white two-tone rug, then these two neutral colors can create an eye-catching result for your interiors.
Area rugs come in different patterns, sizes, and color. It is important you pick the one that increases your comfort and convenience. You can choose the best area rug for your home by spending less time and energy.
Adelaides Best carpet Cleaner have hands on experience in cleaning all the types of rugs and carpets. All our technicians are IICRC certified professionals, you can trust our rug cleaning services. Contact our friendly team today 0410 799 585.